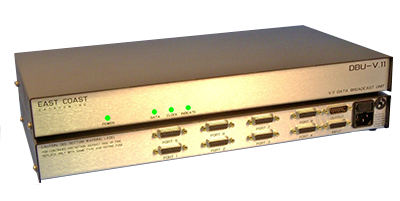 Works with RS-530, RS-422, RS-449 or V35
Ideal Solution for Radar Data Distribution
Features / Benefits
Interface - ITU V.11 electrical, DB-15 connectors pinned to ITU-X.21
Compatable with V.35, V.36, RS-422, RS-530 and RS-485
Data Rates - Synchronous to 20Mbps
Visual Indication of Data, Clock and Indicate
Receive Data, Clock and Indicate Broadcast to all Subchannels
ully Cascadable
Ideal for V-SAT Data/Clock Broadcasting
Sturdy Metal Enclosure Rackmount or Standalone
110/220VAC Switch Selectable
Description
The East Coast Datacom Data Broadcast Unit, DBU-V.11 is designed for use in receive only data broadcast applications. Examples of typical data broadcast applications are; Continuously updated public data displays and distribution of continuous noncritical data to PC's or receive only printers.
The expanding role of V-SAT systems in receive only applications for real time data distribution is expected to increase dramatically over the next several years. The DBU-V.11 is an excellent choice for applications of this type.
The DBU-V.11 utilizes an ITU V.11 compliant electrical interface with data rate capabilities up to 20Mbps. Additionally, V.11 supports data transmission at far greater distances than does RS-232. The DBU-V.11 can support up to 8 receive only terminals simultaneously.
The DBU-V.11's master port has tandem DB-15 connectors allowing the DBU's to be cascaded without loosing any subchannel ports. The DBU-V.11 continuously broadcasts Receive Data, Receive Timing and Indicate control signals from the data source to the 8 output terminal ports.
The DBU-V.11 is housed in a sturdy aluminum enclosure and is supplied with an internal linear power supply. The unit has a 110/120 VAC rotary select switch located on the rear of the housing. The unit can operate on standard power found in all countries.
The DBU-V.11 has a three year warranty and a 24 hour turnaround on warranty repairs.
SPECIFICATIONS

Application
Multiple Synchronous Broadcasting of Data, Clock and Optional Control Signal
Capacity
One to Eight Subchannels per unit, cascading in unlimited
Serial Data Interface
ITU V.11 compliant, Pinned to X.21
Compatible with V.35, V.36, RS-422/449, RS-350 and RS-485
Data Format
Data transparent at all data rates
Data Rates
Up to 20Mbps
Subchannel Connection
15 pin female D-Sub connectors
Master Port Connection
15 pin Male and Female D-sub connectors
Front Panel
Indicators....Power, Data, Clock and Indicate

Power Source
100-120 to 200-220VAC @10%, 50/60Hz, 0.16/0.08A, external 110/220 volt select switch, IEC Power Inlet, (2) 5mm Fuses
Environmental
Operating Temperature . .32º to 122º F (0º to 50º C)

Relative Humidity.. . . . . . .5 to 95% Non-Condensing

Altitude. . . . . . . . . . . . . ... .0 to 10,000 feet

Dimensions
Height ....... 1.75 inches (4.44 cm)

Width ........ 17.00 inches (43.18 cm)

Length ....... 9.00 inches (22.86 cm)

Weight
4.50 pounds (2.1 Kg)
Warranty
Three Years, Return to Factory
Regulatory Approvals Tested According to
UL 60950-1:2003, CAN/CSA-C22.2 No. 60950-1:2003CE Safety EN60950 and CE EMC EN300-386-2
Ordering Information
Model: DBU-V.11
Description: 8 Port Data Broadcast Unit
Included with each unit:
1) Operations Manual
2) U.S.A. Grounded Power Cord, Part # 713015
3) Optional Power Cords
A) United Kingdom, Part # 713016
B) Continental Europe, Part # 713017
C) Other: Specify Country on Purchase Order
Optional Accessories
1) Spare Data Center Fuses
A) 160ma Fuse, Qty (2) Part # 714000
B) 80ma Fuse, Qty (2) Part # 714001